Kenji's Group is the assembly of Kenji and his childhood friends (see: Kenji's Youth Group). Its purpose is to stop Friend, who is attempting to destroy the earth. The group's hideout is situated in the an old metro station.
Members
[
]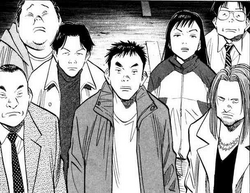 Affiliation
[
]
The group is associated with a couple of homeless people, under the leadership of God.
Actions
[
]
Ever since the group was established, they have been trying to know more about Friend and The Prophecy Book. At the beginning, Kenji tried to talk to Maruo and Yoshitsune about Friend, but he couldn't do it. After some events, Kenji told all his findings to Yukiji and asked her not tell Yoshitsune and Maruo. She eventually did. After Kenji, his mother and Kanna lived in their base, he contacted Otcho, Maruo, Yoshitsune, Mon-chan and Fukubei. Yukiji eventually also joined the group. From that point on, they were trying to decipher the book, and trying to learn who Friend was and what he was going to do. December 21, Friend blew up the Parliament. That was the sign that the doom of the Earth was beginning. On December 31, Kenji's group moved out to stop the giant robot who was destroying Tokyo.
[

]