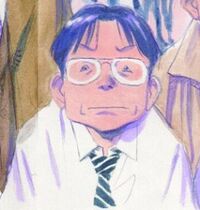 Yoshitsune is a childhood friend of Kenji Endo. He was part of Kenji's Youth Group and later Kenji's Group.
As a child, Yoshitsune was very shy and often forgot about by his friends. During adulthood, for his job, he made the mistake of ordering 1000 printer cartridges when he only needed four, and while wondering what he was supposed to do, he received a text from Kenji asking him to come fight against Friend. Yoshitsune accepted, knowing he would have to leave behind his normal life. He managed to survive the Bloody New Year's Eve and from there lived as a custodian at Tomodachi Land, trying to learn more about it and eventually coming to help Kyoko Koitsumi escape where he again gets himself involved with his former colleagues. He leads a rebellion group against Friend, and although he is a great leader, he personally believes that he's not adequate to be one, often looking down on himself or getting upset because of the pressure to make the right choice.
Community content is available under
CC-BY-SA
unless otherwise noted.